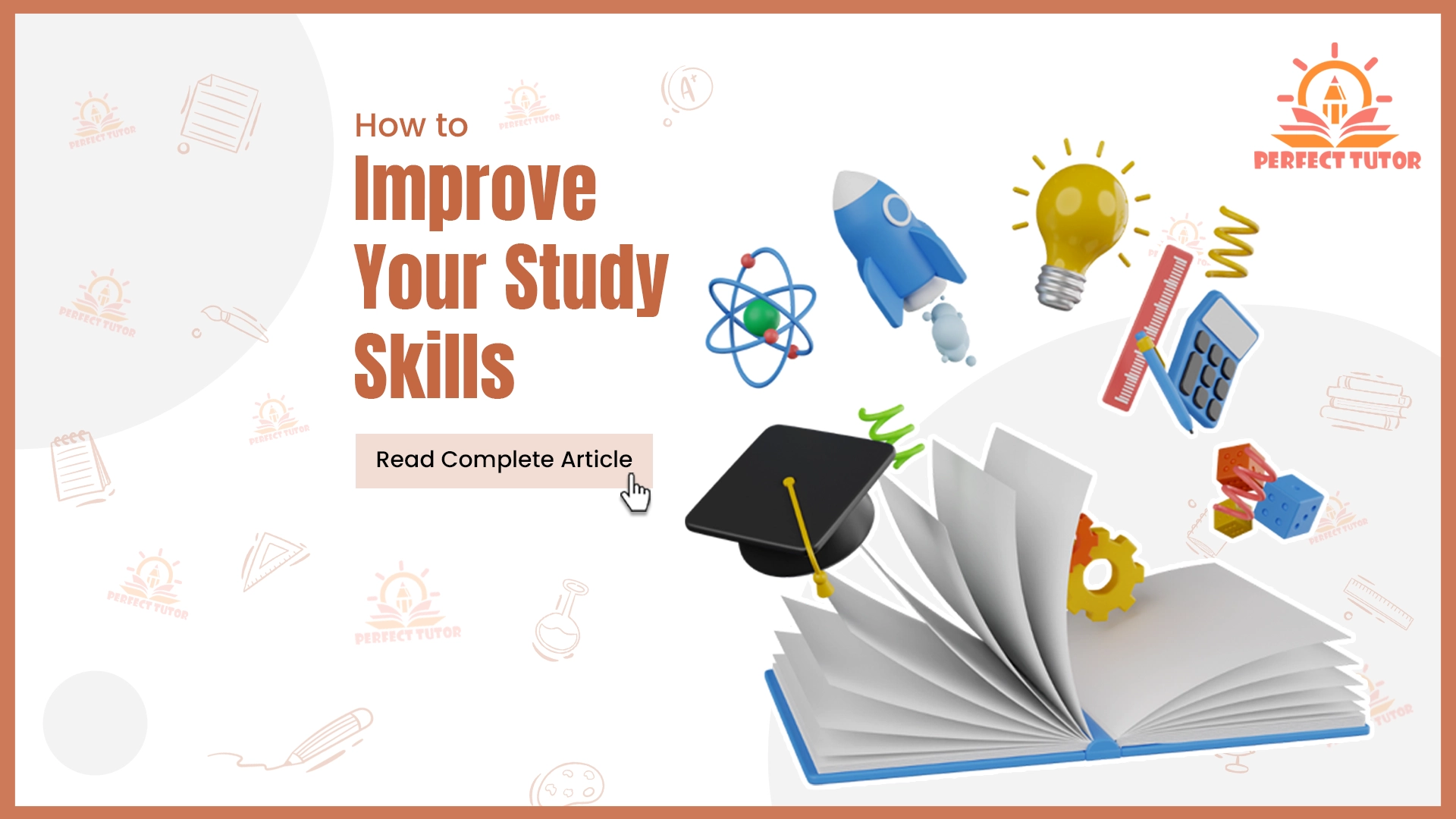 The 7 best ways to improve your study skills.
Many students usually don't have enough ideas to improve their study skills. It's that time of year again when students prepare for exams and work hard to improve their grades. The most effective way to improve your academic skill is to identify your weaknesses and work on them. However, we have described here the 7 tips to help you improve your study techniques and get the most out of your studying and classroom activities.
How to improve your study skills- Get 100% growth in Study
Follow a few study tips so you can improve your study skills. Student's lots of times fail due to a few reasons like distraction, and unable to time management.
Improving study skills is a crucial part of our growth in education as well as professional life. If you are facing this kind of problem, read this blog till the end and get a few study tips that will help you learn skills and study skills.
So first, we talk about students, as students face so many challenges in school and college. You want to prove yourself in class. But only a few of the students are able to prove it, and sometimes other students fail for a few reasons like distraction and a lack of time management.
Improving skills is very important for working professionals because, in the corporate world, demand for skills for an employee has rapidly increased. So below are a few study tips that, if you implement them in your life, can improve your study skills.
Break is important during study
Everyone has their own study method, and they follow it. If we want to get effective results, we should take a break of 10–15 minutes after a 1-hour study. If we study continuously, then our mind and muscles require rest. The practitioner says that breaks give energy to your brain muscles, so you can do deep brainstorming on your study. You can improve your study methods and strategy. After the break, you are able to focus on studying.
Study tips for a single subject study continuously
Unfortunately, we don't like all subjects when we study them continuously. We feelboredom, which is why we are unable to improve our learning and study skills. We should follow a proper timetable so that we can give equal time to every subject. Priorities syllabus according to need, and take proper sleep for almost 7-8 hours. Remove stress by exercising daily for 15–20 minutes.
Time management
Time management skills are key to success. Create your own calendar for upcoming exams, social events, and project deadlines. Keep your calendar on the study table and in the room. Each day is different from person to person. As students, we should follow a study schedule so we can utilise time to improve our study skills. Use digital notes at study time; you can take them anywhere. Always make supportive friends in your surroundings who could help you make a better study strategy. Sometimes unforeseen circumstances will come up and you will be unable to manage your schedule, so have patience with yourself and manage things by prioritising work.
Strategy of Time management
Create Schedule
Set Alert
Build subject planning
Prioritize time for Subject
Take tuition Classes
Studying for you is a good habit, but sometimes it does not work. When we practise a hard level of question, we are unable to solve it. We feel demotivated. So first, you should explore the internet to get answers to these questions. If you don't get a solution, then contact an expert tutor who has several years of experience in the same subject. Discuss your weak point with him and practise. Students should not hide their weaknesses from their tutor because the tutor is the only person who can sort out their problems. The habit of a good tutor is to always motivate his students and be with them.
Practice tests and Analyze
Every student studies, but how much are you studying, and how many concepts are clear in your topic? You should analyze yourself by taking a test. You should appear in school and tuition tests and try to achieve higher marks. A test is a way you can analyse your weaknesses.
Example-
In the school test, 10 chapters come in your physics test, and you prepare only 6 chapters, leaving 4 chapters. 20 questions are in the test. During the test, we can analyse how much we prepared for six chapters. After the test, we think about how many mistakes we made, brainstorm and write down a few weak points, and discuss them with the tutor. The tutor guides you and makes an extraordinary strategy for you. After following that strategy, you will see that you are improving and getting good marks on tests.
Organize lecture notes
If you study with notes, it's very helpful for improving your skills. The huge fault of students is that they don't take making notes seriously, and exam time gets upset. If you have your own notes, you can do productive study in a short time. It does not take too much time to revise. So taking notes is very helpful for students. You can make online and offline notes, but in the digital age, students should have digital notes. Many platforms are available on the Google Play Store, and a few websites are available where students can write their digital notes and easily access them from anywhere.
Join or Create a Study group
Students should join study groups where they can discuss their doubts with the same community. Many platforms are available on the internet, e.g., Quora, Medium, and blogs. Here, lots of experts are available for doubt clearance. If possible, create your own group, add your friends and community members, and discuss the topic every day. If you answer other students' questions, you gain more confidence. Through this activity, you can improve your study skills. It's all about helping each other succeed!
Find a good place for study
Search for a better place where you can study properly without disturbance and destruction. The library is the best place to study. In a library, you get facilities, which are required for ideal study. If any room is available at home and it's a perfect fit, change some in-room furniture and put a table and chair in the room. Write your goal on paper and put it on the wall. It will always be your goal.
Leave a comment