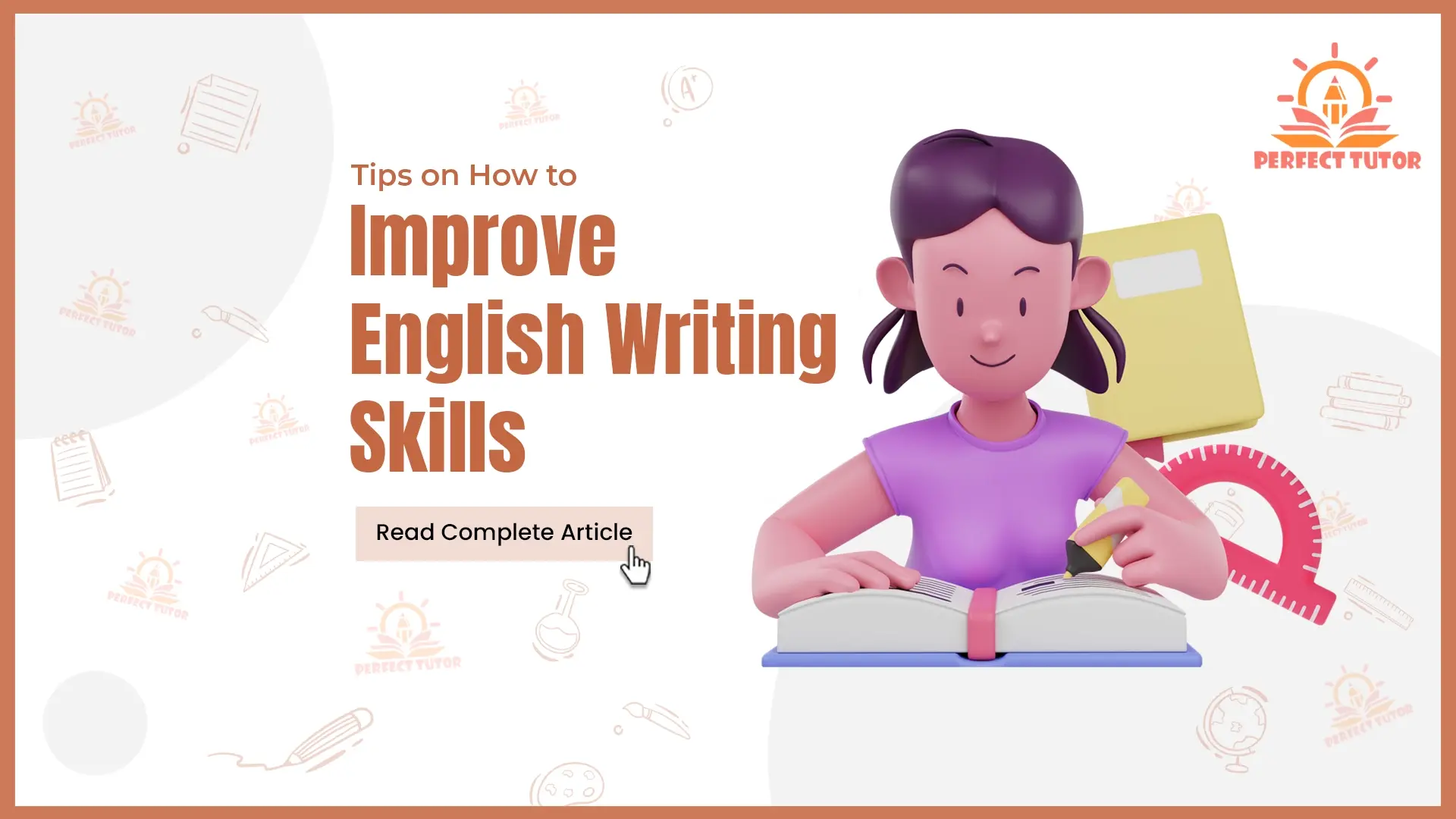 Tips for How to Improve English Writing Skills
This blog will discuss How to improve your English Writing Skills. We all speak and use English, which is valuable in many fields. However, due to a lack of knowledge about good handwriting, many people have struggled to use English effectively for a very long time. This problem with your English writing can be solved only if you work diligently and consistently to improve it by taking proper instruction. If you find yourself in this situation and want to enhance your English writing abilities, this article is for you, as it contains 13 simple, valuable tips. Let's talk about How to improve your English Writing Skills.
1) Read more and more:
You might wonder why reading is necessary for writing, but reading is the first step in improving your English writing abilities. Your vocabulary, grammar, and sentence structure will all improve as a result. For this reason, read a lot before writing and pay close attention to what you're reading.
2) Clarify the purpose before writing:
When a topic or idea is clear, what and how do you want to write? Only then can you write correctly. To start writing, remove all confusion from your thoughts and wait until you know why you are writing it.
3) Take the help of a dictionary:
Whenever you sit down to write on a topic in English, keep a dictionary nearby to immediately look up any word and know its meaning. After doing this, you will see an improvement in your writing. Although using a dictionary may seem old-fashioned, it is still helpful for improving your English writing. Additionally, you can use programs like Grammarly to help you improve your English writing abilities.
4) Pay attention to your grammar:
Speaking is informal, but writing is formal and organized. For this reason, the proper use of grammar in written communication becomes even more important. Thus, grammar exercises can be beneficial in developing your English writing abilities. Keep the grammar with you.
5) Check your spelling:
Suppose you are writing about a topic in any subject and have made a spelling mistake initially. In that case, your article will not be that good, so before writing the article, you should check the spelling and correct your mistakes in the beginning.
6) Maintain a diary:
If you want to practice continuously, keep a diary in which you enter your daily activities in English, which is also essential for developing your English writing abilities. By doing this every day, you will get into the habit of writing, and if you run out of words or phrases, you will immediately turn to the diary, dictionary, or the Internet. You will gain new knowledge daily and perform at a higher level.
7) It would be best if you learned how to organize paragraphs:
To improve your English writing, start structuring your paragraphs. This means that the main phrase of the paragraph, which introduces the topic of your discussion today, should come first. The issue is further explored in the auxiliary phrases that follow. The discussion is then summarized in the conclusion.
8) Avoid filler words and phrases:
Some words have no contribution to writing, but they definitely come into our writing. Stay away from such filler phrases and words in your writing. Additionally, try to use direct vocabulary. Speak in short phrases.
9) Re-read what you just wrote:
When you've finished writing on a topic, read it out loud to check the consistency of your writing. Is it easy to read in one go, or do you have to stop because there are too many complicated sentences, or one sentence is too long? Correct each of these problems, if there are any. By doing this, you will understand your writing style and what adjustments are needed. You will also be aware of this.
10) Take feedback:
If you keep writing in English on different topics daily without showing it to anyone, how will you know how you write? Your English can improve even more if someone tells you what the next step should be. Show your work to someone fluent in English who can answer all these questions without criticizing you for providing helpful feedback.

11) Keep practicing:
The best way to learn new things or get better at what you already know is to practice. When improving your English writing abilities, you will first identify and correct your weaknesses through practice. Thus, the more you write, revise, and proofread, the better your performance will be. If you spend a lot of time on social media, you can join various Facebook and Instagram groups that can help you improve your English writing skills. People who can help you to write in English are available there for communication. Like you, many people aspire to study English.
12) Use Online Tools:
If you want to improve your English writing skills, then you can also take the help of online tools. Online tools are also available from where you can improve your English writing skills, Grammarly tool for example. If you like to write online, this tool will help you improve your English writing skills.
13) Get help from tutors:
You can also take the help of online or offline tutors to improve your English writing skills, and they will tell you how you can improve your English writing skills, perfecttutor.in is an example where you can learn from your nearby tutor and hire a tutor online. Teachers can easily teach you how to write English.
Conclusion
We have told you How to improve your English Writing Skills in this post.
By adopting the advice given in this post, you can increase your English writing ability. We have made this blog easy for you to understand and improve your English writing skills. If you need a good teacher who can teach you at home, give you home tuition, or give online tuition, then you can easily find the teachers of the location near you by visiting the website of Perfect Tutor.
Leave a comment